Tronsweep is the innovative decentralized lottery DAPP based on the Tron blockchain and managed by smart contracts without any human intervention. Since things are managed by the smart contract, everything is transparent and fair and can be cross-checked by the users on the Tron blockchain.
Why is Tronsweep the Best Among Other Online Lotto Games?
Tronsweep is a community-driven platform, profit generated by the platform is distributed among the community in the form of dividends. And as it is a decentralized platform so everything runs on the smart contract and winners are picked through random number generators. Community-driven platforms are community-centric and maximum benefits are given to the community. Users who are playing lottery games on the platform can earn a huge amount by winning the lottery but even if they don't win, they get their money back in the form of a dividend.
Whenever any user buys lottery tickets, they get a chance to win up to 300 million TRX. When tickets are bought successfully, lotto tokens are added to the user's wallet. 45% of every ticket purchase goes to the dividend pool, which is distributed weekly to all the lotto token holders. Users get directly 10% from their referral's ticket purchase, this 10% will be given lifelong whenever their referrals buy tickets. Users also get 2.5% – 1% from their referral's winning prize, which is up to 10 levels. Users get the weekly dividend on their lotto tokens lifelong until they unstake their lotto tokens.
How Can Users Buy Lottery Tickets on Tronsweep?
Tronsweep is a decentralized platform so, to have access to this platform you'll need to download the Tronlink pro app which is a wallet that runs on a Tron blockchain or you can add the extension to your chrome browser if you wanna use it on your laptop.

Create an account if you don't have one and remember to keep your mnemonic phrase safe because that is the only thing to restore your account if you lose it.

After creating your account on Tronlink pro you'll have to transfer Tron to your wallet from your exchange. For that, click on the "Receive" button given in the center of your wallet screen. You can copy your receiving address or simply scan the QR code.

After receiving the Trons in your wallet click the discover section given in the icon bar at the bottom, search

https://tronsweep.com/

in the search bar and hit enter. You'll direct land on the home page of Tronsweep and your account will be created automatically.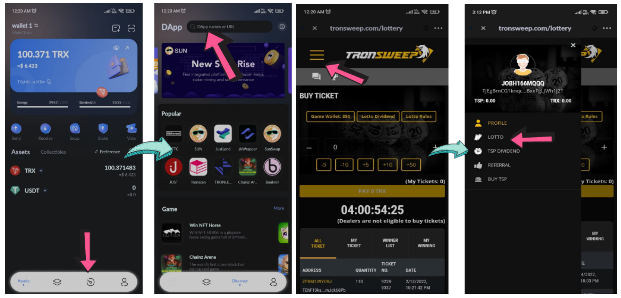 As you'll scroll your screen you'll see the lotto game, click on "play now" and you'll land on the lotto game. Let's say you want to buy 100 tickets, so enter 100 then click on "PAY TRX" and enter your transaction password. As your transaction will complete successfully then lotto tokens will be added to your wallet which you can see in "stake lotto".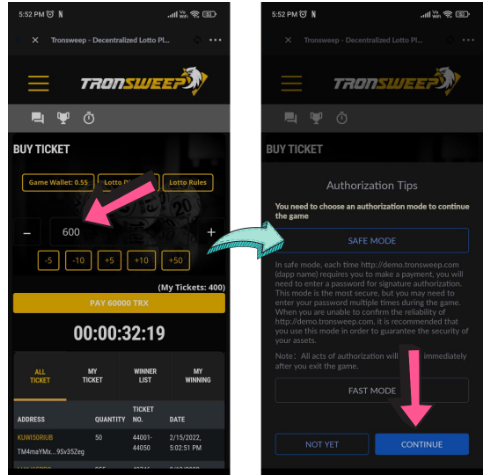 Don't forget to stake your lotto tokens because a dividend is distributed to the lotto token holders who have frozen their lotto tokens. This dividend is distributed every week so keep your lotto tokens frozen and enjoy your passive income until you unstake your lotto tokens.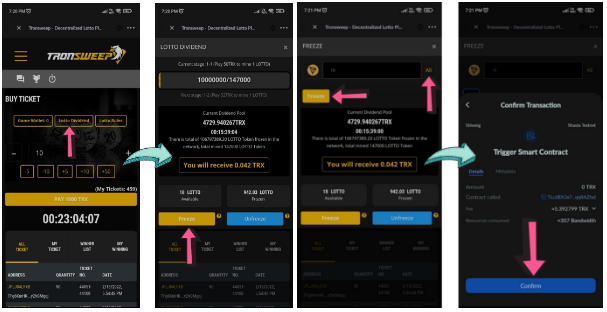 Up to 120% APR on Your Investment
| | | | | | |
| --- | --- | --- | --- | --- | --- |
| No. of Lotto Tokens | In a Day | In a Week | In a Month | In a Quarter | In a Year |
| 100 | 16.50 TRX | 115.50 TRX | 495 TRX | 1485 TRX | 5940 TRX |
| 1000 | 165 TRX | 1155 TRX | 4950 TRX | 14850 TRX | 59400 TRX |
| 10000 | 1650 TRX | 11550 TRX | 49500 TRX | 148500 TRX | 594000 TRX |
| 100000 | 16500 TRX | 115500 TRX | 495000 TRX | 1485000 TRX | 5940000 TRX |
Conclusion
Tronsweep is the best place to invest your Trons and earn 10-12% monthly returns on your investment. Tronsweep has made the lottery fun and worth trying because users don't lose even when they don't win the lottery. User's spendings on the lottery tickets are actually their investment on tronsweep which will give them weekly life-long returns until they unstake their lotto tokens.